[20 JUL 99] COVENTRY CATHEDRAL PRESS RELEASE
Cathedral Prize Awarded To Two Jewish Campaigners For Peace

The 1999 Coventry Prize for Peace and Reconciliation has been awarded jointly to Mr Clive Marks and Dr Richard Stone, trustees of the Lord Ashdown Charitable Settlement. This was announced today by the Coventry International Committee, which comprises of representatives from the City, University and Cathedral.

Mr Marks and Dr Stone have both made a major contribution to Peace and Reconciliation at an international, national and community level. Examples of this are the work of Clive Marks in supporting land-mine victims in Cambodia, Laos and Mozambique, and the contribution made by Dr Stone as advisor to the 'Stephen Lawrence Inquiry'.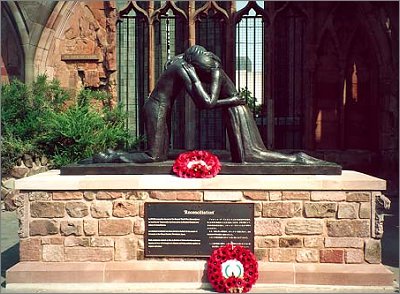 'RECONCILIATION' BY JOSEFINA DE VASCONCELLES

The prize is sponsored by Richard Branson, and the winners will be presented with a miniature of Josefina de Vasconcelles' sculpture 'Reconciliation'. Richard Branson gave this sculpture, sited in the ruins of Coventry Cathedral and the Peace Memorial Garden, Hiroshima, on the 50th anniversary of the end of the Second World War in 1995.

The Provost of Coventry will present the award in the ruins of the old cathedral in the autumn. It is hoped that the Bishop of Coventry and the Lord Mayor of Coventry will also be present.

Canon Andrew White, International Director at Coventry Cathedral comments:
"With Coventry Cathedral's history of Reconciliation this is one of the most significant prizes for peace in the Anglican world."
MORE INFORMATION:
Claire Monks, Coventry Cathedral
Canon Andrew White, Director of International Ministry 024 7655 2654