[28 APR 00] COVENTRY CATHEDRAL NEWS
Famous Evangelist Visits Coventry Cathedral

Church leaders from all denominations in Coventry are putting in the final preparations for the first visit of a well-known evangelist.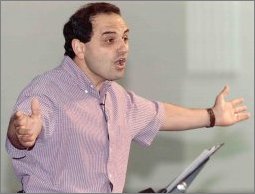 J JOHN
J John will be coming to Coventry for ten Tuesday evenings in May, June and July, talking about each of the Ten Commandments and their continued relevance to every day life.
The first evening, to take place on Tuesday 2 May at 7.30pm in Coventry Cathedral, asks the question, 'How to Find True Contentment'.
J John observes that the average family's ambition is to make as much money as they are spending, and that "when the going gets tough, the tough go shopping".
In his talk, he will ask whether this is really the best way to find contentment.

The Lord Mayor of Coventry, Cllr Joan Wright, has given her support to the mission.
She said:
'It is very exciting that J John is coming to Coventry, to lead this series about the Ten Commandments and I would encourage everyone to go along and listen to him while he is here.

"Having been privileged to hear him previously, I know what an enthusiastic and engaging speaker he is.

"The Ten Commandments and their relevance in the modern world is an important topic for consideration – and this series of talks provides the chance to focus on spiritual things, in amongst the busy-ness of every day life.'
Coventry Cathedral and City Vision are working with churches in Coventry to bring this mission to the city, in the hope that it will bring many benefits.
The series of evenings are being put on to demonstrate that the values God created 3,000 years ago are still valid today.