[05 JUL 00] COVENTRY CATHEDRAL NEWS
J John Finishes On A High Note

More than 3000 people flocked to hear the final talk by the evangelist J John at Coventry Cathedral last night, queuing to enter the cathedral from as early as 7pm.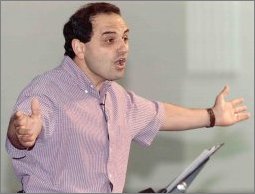 J JOHN
J John's talks have been extremely successful, packing the cathedral every week since the beginning of May.
The final talk was followed by the largest mass anointing that England has ever seen with over 2500 people taking part.
After J John's talk, on the first and most important commandment 'You shall have no other gods before me', the crowd moved into Coventry Cathedral Ruins for the anointing.
The Bishops and Archdeacons of Coventry and Warwick and Cathedral Canons along with representatives of all Christian denominations took part in the annointing.
At the start of the evening, the Provost of Coventry, the Very Reverend John Petty, presented J John with a cross of nails in recognition of the work that he has done in the city during the ten weeks his mission has been in Coventry.
Coventry Cathedral and City Vision had worked with churches in Coventry to bring J John to the city.