[27 FEB 01] COVENTRY CATHEDRAL NEWS
Fire Grips Coventry Cathedral

Coventry Cathedral's world-famous tapestry may have been badly damaged by smoke which filled the building after a fire today.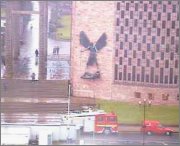 Fifteen fire engines and control vehicles were called in to tackle the blaze which was discovered in the basement of the cathedral shortly after 8am.
Choirboys practicing for a major service tomorrow night were evacuated as firefighters from all over the West Midlands were called in.
The blaze is believed to have taken hold in a store room. It was put out by crews from Canley fire station, while others waited to give their back-up in case the fire spread under the huge building.
But the main fear now is that smoke from the fire will have damaged the Graham Sutherland tapestry and other works of art in the cathedral.
Specialist equipment was being brought in by the fire service to try and get the smoke out of the basement without it getting into the main part of the building.
And an emergency smoke extraction system, installed when the building was consecrated in 1962, was set in use for the first time.
Lin King, who discovered the fire and raised the alarm, said:
"I was shaking like a leaf. I've never seen a fire before. I alerted the fire brigade – it was the first time my mobile phone has come in useful, and I told the song-master to get the choir out.
Choirmaster Rupert Jeffcoate said there were 22 boys aged between seven and 13 rehearsing in a room near the fire.
He said they were evacuated and waited outside the building until the children were taken to school.
Canon Andrew White said he was very worried about the state of the art in building, particularly the tapestry.
He said:
"We've got all the people out and now we have to wait until we are allowed to go and see what damage has been done. Smoke can be very harmful to works of art and I'm very worried about what damage there is."
He added that the service planned for tomorrow night would go ahead in one form or another
Divisional officer Paul Thomason said a big effort was being made to contain the smoke. He said:
"The problem is the fire is in a basement, and you can't just open a window.

"We are trying to manage the smoke and get it out of the building the way we want to so it doesn't do too much damage."
He added that the cause of the fire was unknown:
"Fires don't usually just start in a store room so we will have to investigate. I'm not saying it is suspicious or arson but we need to have a look at the cause."