[05 APR 99] COVENTRY CITY FC NEWS
Geoff Mann - Architect Of Arena 2000

Coventry City's new Arena 2000 is far more than just another project to architect Geoff Mann.

Mann, who is a partner in the prestigious London practice RHWL, is a life-long City fan who still watches the Sky Blues home and away.

His company designed the £200 million Ludgate building in London, St Catherine's Dock and British Airways' headquarters but the one he really wants to see built is the new super stadium in Foleshill.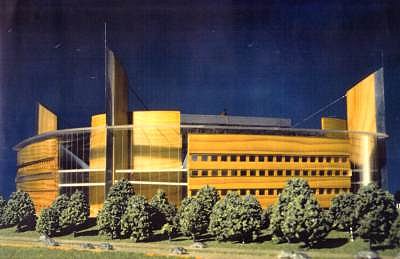 ARENA 2000, FOLESHILL, COVENTRY

He has been working closely with club chairman Bryan Richardson and the dream now looks certain to become reality. The scheme has outline planning permission, there has been keen interest in the retail development and the whole scheme has the backing of the City Council and, apparently, most of the city itself.

But Mann is determined to build more than just another post-Taylor Report stadium. There are plenty of those around the country – he wants to see something different, a project which will provide a national focus for the city and its football club.

The sliding roof and retractable pitch guarantee that, but architecturally the ground will also be something special.

He said:
"It will be a special building and will look tremendous. It certainly won't be run of the mill.

"Firstly we don't want metal all over the place like every other stadium and we will be using a façade system that Daimler Benz have on their headquarters in Berlin. It is a system that allows for great flexibility and means that the elevations can change if necessary. It will be a terracotta colour with four glass corners.

"From a football point of view we want to create the sort of atmosphere we have started to see at Highfield Road. Since Jimmy Hill's day there has been this latent feeling of excitement that has not really been tapped.

"Grounds can help that and there is no doubt that Manchester United and Newcastle have got it right in terms of their design. When you are in their grounds, then all you can see if football.

"At Blackburn you can look up and see Auntie Gladys hanging out her washing in her back garden. It is the same at Sheffield Wednesday, there are gaps everywhere.

"When you are in Old Trafford and St James' Park you really start to believe it all and that generates a large energy which hopefully helps the team."
Much of the design work has already been completed and the broad principles agreed. Now the vital detail work is being carried out.
"What has already been applied for is what we are allowed to put on the site and now we have to apply for where they go and what they look like.

"We know where the stadium is going give or take a few metres because we have to have the moving pitch on the south site. Where the superstores will be is largely determined but the companies involved have to work on some things.

"We have hit the ground running in terms of the stadium because we had done a lot of the design work but now we have to work out everything in great detail so it can all be accurately costed."
There is little doubt now that the dream will become reality in the next two years and Mann feels the determination of the team behind the project has been key to its success.
He said:
"I have really put my heart and soul into this and so has everyone else. Bryan Richardson has tremendous self-belief – the glass is always half full with him – and he has used that for the benefit of the club. Nothing has been viewed as impossible."