[19 MAY 99] COVENTRY CITY FC NEWS
Stadium Held Up By Pipework Problems

Work on Coventry City's new 40,000 capacity super-stadium has been delayed after organisers ran into difficulties with the location of gas pipes around the site.
A workforce was due to begin clearing the former gas-works land this month, but that has been postponed while engineers investigate where to route gas pipes in order to ensure that they do not interfere with the new stadium.
Arena 2000 is scheduled to open for the 2001/02 season and despite this setback club officials are still expecting to hit that deadline.

The Sky Blues have appointed Stuart Guest as project director tasked with overseeing the construction of the stadium, and he is confident that this delay will be a short one.
He said:
"It is essential that all of the technicalities are finalised before we begin, but I am hopeful that workmen will be able to move onto the site within four weeks.

"The problem is finalising the exact run of the pipework so it does not interfere with the location of the stadium.

"There is a great will at the club and in the city for the project to succeed, I am fostering a collective ambition to create something really special."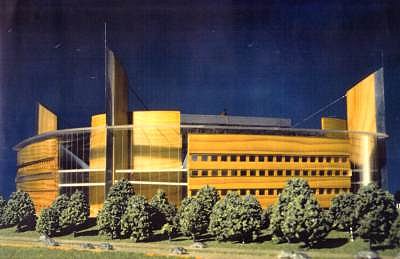 THE PROPOSED NEW ARENA 2000

The £120 million project is scheduled to be in full swing by the late summer when the landmark gas holders will be demolished and the area will be fully decontaminated.

Arena 2000 is a huge challenge for Guest as it will be the first development of it's kind in the country, but the former director of Whitbread Hotels believes it is a wonderful opportunity.

He said:
"This is a dream come true. We are creating something that will be a massive benefit to the city and the region.

"It is completely different to anything seem in this country and is the biggest and most significant building project in Coventry since the new cathedral was constructed."
The stadium will have a fully retractable roof and pitch, allowing it to be used as a multi-purpose venue for concerts, exhibitions and other events.