[09 APR 00] COVENTRY CITY FC NEWS
Coventry City Business On The Up

This season may have been a campaign of steady progress for Coventry City on the park but it has been a revelation for them off it.

The club's Business Development Unit has capitalised on the growing esteem that it is held in to encourage more people to make use of the extensive hospitality facilities available.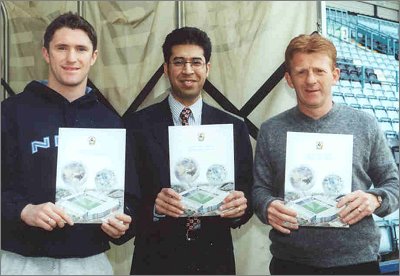 ROBBIE KEANE, RAJ ATHWAL AND GORDON STRACHAN

This drive has been so successful that they sold out of all matchday hospitality three games before the end of the campaign and business development manager Raj Athwal is urging people not to miss the boat for next season.

He said:
"We have been stepping up the service we offer to local businesses and we are aiming to provide the best marketing and hospitality packages for all corporate needs.

"We spend a lot of time assessing the needs of potential clients and producing tailored packages to get the best out of their relationship with Coventry City Football Club.

"That can include anything from a kit sponsorship or a golf day, right through to an executive box for the season and there are a wealth of options available."
Athwal is also keen to dispel the image that Premiership football club spells inflated prices.
"It is staggering the amount of times that people say to me 'if I had realised the value to my business I would have got involved years ago'.

"The perimeter advertising boards at Highfield Road can work out at less than £70 per match, which surprises many people because of the huge exposure that they get.

"We have already had a flood of interest in different things for next season and I would strongly advise anyone who would like to know more about what is available to contact us as soon as possible."
This view was echoed by commercial director Ric Allison who admitted he was delighted by the growing reputation of the club as a corporate venue.
He said:
"We can cater for virtually every business need from entertaining clients to offering staff incentives.

"The East Stand has been the venue for several top exhibitions, there is a diversity of different sized rooms for conferences and meetings along with quality restaurants.

"The matchday programme - which has been highly commended this season, perimeter hoardings and the electronic scoreboard also offer unrivalled advertising exposure."