[26 MAY 00] COVENTRY CITY NEWS
Marconi In £30m Race For Arena Name

Coventry City's new arena will be named after a major multi-national company in a £30 million deal – and one of the frontrunners is a city firm.

A naming-package is being negotiated to help fund the new arena in a deal similar to that negotiated by Bolton Wanderers, whose ground is called the Reebok Stadium.

Coventry City chairman Bryan Richardson said that a number of worldwide firms have shown an interest in signing up to the package.

He said that it would have to be a multi-national company because of the amount of money involved.

Marconi, who recently announced 2,000 new jobs in a new Coventry base, have confirmed that they have held preliminary negotiations with the club.

But a spokesperson said that no decisions had yet been made.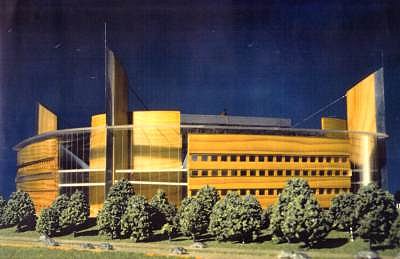 THE NEW ARENA - BUT WHAT WILL IT BE CALLED?
Mr Richardson said he hoped to be able to announce who the sponsors would be within a couple of months.
He said that there are also eight "funding partnerships" being negotiated, where suppliers pay to have the exclusive rights to sell their goods in the ground.
He said:
"These sorts of deals are perfectly common. It happens all over the world."
The plans to build the new 45,000-seater arena on the site of the disused Foleshill gasworks are still going to schedule.
Mr Richardson said there had been a problem with finding a new home for a family living by the final gas-holder, but they would be moving in the summer as another site had been found.
He said:
"We are still looking at August 2002 for completion.

"