[25 SEP 00] COVENTRY CITY NEWS
FPR And NRG Meet At CCFC

Finham Park Rangers are following in the footsteps of their Sky Blue heroes in more ways than one after getting backing from a national firm.

Like Coventry City, the under-8s are soon to move from their footballing home and they have picked up a lucrative new sponsorship from NRG.

NRG, one of the largest supplies of photocopiers and printers in the country, has bought the club two new strips for the season to mark its new backing of the Sky Blues.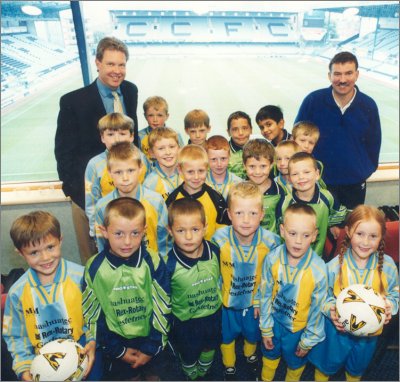 Nicholas Gould (top left) is pictured with team coach Gary Davison AND THE YOUNG PLAYERS
The company has taken the largest executive box at Highfield Road for the new season and decided to put money into grass roots football at the same time.
Nicholas Gould, manager - national accounts, said:
"We have built up an association with Coventry City over the last few years and decided to take the largest box at Highfield Road this season to entertain clients.

"Everyone enjoys Premiership football, but we realise that junior football is also in need of new revenue so we have backed Finham Park Rangers with two new strips and a dozen balls.

"As part of the arrangement, the youngsters were given a tour of the changing rooms and trophy room before having their photograph taken in the East Stand.

"They had a superb time and we are hoping that both clubs have a very successful season."
Finham Park Rangers are moving from the Memorial Park to the Alvis Sports and Social Club ground in Green Lane South in the next few weeks. They play friendly games and six-a-side tournaments.
Last season two teams from the club reached the final of the Nuneaton Boys' Club Tournament to take the Comtel Challenge Shield.
NRG supplies office equipment to large national bodies and companies including GKN, The Ministry of Defence, Shell and West Midlands Police.