[01 FEB 01] COVENTRY CITY NEWS
Tell The Truth Over Stadium Delays, Says MP

Coventry MP Bob Ainsworth has lambasted the Sky Blues for "silly little" delays over its new stadium, and says he believes the project could be in financial difficulties.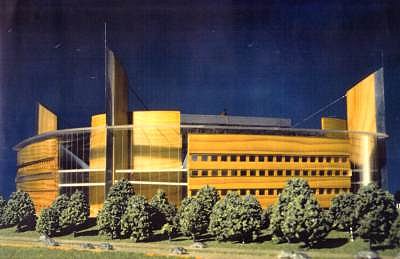 WHEN WILL WE SEE IT, ASKS MR AINSWORTH
The Coventry North East MP says the public should be told the truth about the reasons for the hold-ups for Arena 2001, which will not open for football for three years.
Project managers have blamed a delay in moving a family, who have lived in the shadow of the old Foleshill gas-holders for years.
There is now a delay over resettling them because the new site has a mobile phone mast, which the family want moving before they will go and live there.
But Mr Ainsworth, who last week was appointed to be a minister at the Department of Environment, Transport and Regions, said a problem that size should not hold up the £172 million development.
He called on the club and Coventry City Council to come clean with the real reasons for the difficulties, so MPs in the area could help.
Mr Ainsworth said:
"I do believe that we are being confronted with the wrong reasons why there's a problem.

"I believe there's probably a problem with the financing. If there is, let's get down and start talking about it and stop pretending that silly little things like this are causing the delay.

"I don't believe that anybody is in a particular hurry to move the family or the mast.

"Everyone knew about the gypsy family and a lot of other problems before they got into it.

"Those of us who wanted to see the proposals success but were pretty sceptical are entitled to say 'What is going on'."
Mr Ainsworth said the involvement of the NEC group was a good sign, but any other difficulties should be brought into the open.
He said that one possible area of difficulty was the funding a new railway station.
He said:
"We are aware there are talks with the NEC. They have experience of running this kind of facility and we hope that by bringing people like that in, the proposition can be made to add up.

"The club said they were prepared to pay for a station, and my eyebrows went up when they said that, because I thought stations aren't cheap, but they said it was a drop in the ocean compared to the whole project."
SEE [15 DEC 00] SKY BLUES 'ARENA 2003' WILL COST £172m