[17 MAY 01] COVENTRY CITY NEWS
Sky Blues Ticket Prices Relegated

Coventry City today announced a substantial cut in ticket prices for its first campaign outside the top flight for 35 years.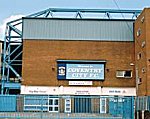 All tickets have dropped in cost and a new emphasis on younger fans will see some juniors able to watch games for as little as £2.17 a game.
The season tickets go on sale on 5 June and the deadline for renewal is on 7 July a week later than usual.
Adult season tickets are down 11.4 per cent, while senior citizens will pay 11.1 per cent less than last season. The average child price is down by 47.3 per cent for a season ticket.
The club are desperate to maintain their average Premiership gate, which stands at just over 20,000, while a survey revealed they have a very low number of under-15s at games.
Club chairman Bryan Richardson said his ultimate aim was to see juniors attend games at the club's new stadium for around £2 and for some adult senior tickets to be as low as £200 once the move to Foleshill has been completed.
"Clearly we have to face up to a rather unpleasant fact that it is First Division football we will be watching next season and as such we want to be as fair as we possibly can in encouraging all supporters. We don't want people to desert us and we are sure they won't.

"To make doubly sure we have come up with a range of prices we feel will make coming to Highfield Road a very attractive proposition especially for the youngsters.

"There are a lot of attractive games in the First Division and the gates for the successful clubs are extremely good and sometimes higher than when they have been struggling in the Premiership.

"We have given a commitment that we will be back and we want to ensure that will happen. One of the ways that will happen is for the support to be behind Gordon Strachan and the team.

"There was recently an independent fans' survey that said we had among the lowest element of younger fans in the Premiership. That is something of which we are very aware and we are trying to do something about it.

"The initiative to attract younger supporters would have happened if we had still been in the Premiership next season and we would have frozen the other prices.

"Manchester City have sold 16,500 season tickets for next season and that is a great achievement. I am very hopeful we can hang on to the same proportion of senior ticket holders as last season and build on that."
Adult matchday tickets in the Main Stand will cost £21, with Senior Citizens paying £10.50 and Juniors £6.
Other stand prices are:
North Stand: adult £18, senior citizens £9, juniors £6

East Stand: adult £18, senior citizens £9, junior £6

Family Stand: adult £15, senior citizens £7.50, junior £6

West Terrace: adult £15, senior citizen £7.50, student £10, junior £6

JSB: £5 in all areas