[20 MAR 02] COVENTRY CITY NEWS
Council Buys Arena Site
Coventry City

Council and partners Advantage West Midlands are to buy the former Foleshill gas works site in the first steps towards

the

development of a new multi purpose arena for the city.

Plans for the 70 acre brownfield site include a 32,000 seater stadium, conferencing, events and exhibition space, a district centre and food superstore.

The deal has been welcomed by Coventry City Football Club.

The land deal will be completed early next month and paves the way for a joint venture company, with Coventry City Council, Coventry City Football Club and other potential partners, to progress detailed plans and designs for the multi purpose arena development.

Cllr Nick Nolan, Leader of Coventry City Council, said

:
"The city council is aware that the redevelopment of the Foleshill gas works site will have major physical and social benefits for the North of Coventry.

"It is essential that the city council has an active role in the site's future development. The first step is to work closely with the Sky Blues to develop a facility that Coventry people really want.

"We'll now be going into detailed discussions with Coventry City Football Club. All the partners see this as a very positive step forward which puts renewed momentum behind the delivery of the arena."

Mike McGinnity, Chairman of Coventry City Football Club, said :
"This is a significant step towards a new home for the Sky Blues in 2004. We look forward to working in partnership with Coventry City Council to realise our dream."
CLICK TO BUY THE CD



CLICK TO BUY THE CD
CLICK TO BUY THE BOOK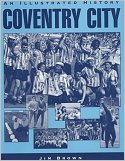 CLICK TO BUY THE BOOK