[10 FEB 99] COVENTRY CITY FC NEWS
Arena 2000 Site Clean Up To Start Soon

Work on Coventry City's £120 million Arena 2000 is due to start in the next month.

British Gas will be the first organisation to begin turning a 50 acre brownfield site at Foleshill into the first stadium in Britain to feature a sliding roof and retractable pitch.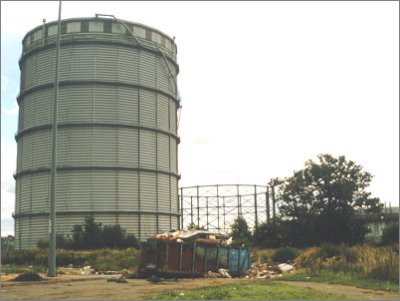 FOLESHILL GAS WORKS

Coventry City's chief executive Stuart Rolt today said that work re-siting the working gas utilities on the site would begin in the next few weeks.

He said:
"The first job is to remove the gas holders and then the gas pressure reducing station, which is a highly technical piece of kit, will be relocated on the site.

"That is scheduled to start in a month or so and will take up until November when the decontamination can start."
The decontamination of the site will be carried out by Edmund Nuttall Ltd, Surrey, part of the HBG Group, and experts in the field.
Area manager Bob Treadgold said the company didn't know what to expect until it actually started on site.
"The process involves two stages – assessment and then decontamination. There is an intensive period of establishing the nature of the contamination, which is done by a series of investigations into previous use and sampling of material on the site.

"After that we come up with a remediation strategy which matches the end use of the land and the contamination which is there."
The company then decides which process for cleaning the site is most appropriate.
"They range from excavating material and taking it to a licensed, controlled landfill site, to changing the nature of the soil in situ, washing, venting – where gas is present – and screening which is effectively sieving.
"There have been some preliminary works carried out by British Gas who own the site. They carry out investigations so the purchaser – Coventry City in this case – know what they are buying."
The decontamination work is expected to take around a month.
The stadium, which will house 45,000 fans for football, is due to open in August 2001 and will be able play host to other sporting events and a range of concerts, exhibitions and conferences. It will feature leisure facilities and two major retail stores.