[10 FEB 99] COVENTRY CITY FC NEWS
Crew Cheerleaders Hit The Small Screen

The Crew – Coventry's band of cheerleaders – will be glued to their television sets on April 25 as they hit the small screen again.

The 30-strong troop, who range from 12 to 20 in age, are appearing on Michael Barrymore's My Kind of People – a performance that comes hot on the heels of two stints on the Noel Edmunds House Party.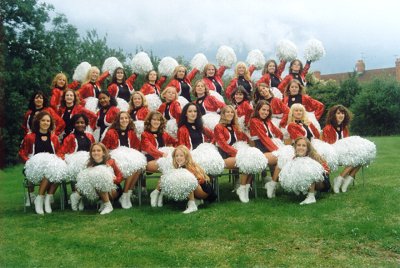 The Crew, who were founded and are now run by Sharyne Barson, regularly perform for the crowds at Coventry City and the Crusaders basketball team matches but their national reputation has been growing in recent months.
Mrs Barson said:
"The producers of the show rang up and said they had heard about us through the Internet and asked if we could go down. We went down to London and did three minutes for them.

"They said we might not hear anything very quickly but they contacted us almost immediately and we recorded the show at the Merry Hill Shopping Centre in Dudley. We have no idea whether we will be on for 10 or 20 seconds, so we will all be watching."
The Crew were encouraged to go for their TV stardom by Crusaders owner-coach Dip Donaldson.
Mrs Barson added:
"When we were asked down by Noel Edmunds it meant missing a Crusaders match. We contacted Dip but he was very supportive and told us to go for it. We appeared on an item called Sofa Soccer and the girls appeared behind a goal. The goalkeeper that day was Paul Heald of Wimbledon, who spent some time at Coventry City a few seasons ago.

"We thought that was it but then the day before Coventry played Liverpool they rang us up again and asked us to go down the next day so the girls did their bit before the game and then travelled down.

"The producers said they couldn't believe how professional the girls were, which is a real compliment."
The girls, who have to buy their own tights and shoes and, until this year, their own costumes, have also appeared at Donnington Park and done work for Peugeot and Continental Airlines.