[29 JUN 01] THE STUART LINNELL COLUMN
Sky Blues Takeover "Depends On Financial Advice"


Plans by nightclub owner George Hendry to take control of Coventry City Football Club now rest on meetings between Mr Hendry and his financial advisors.

As I revealed on CWN on 1 June, Mr Hendry is keen to add the club to his other business interests, which include the Limelight club in London and Pimlico's No1 at Alveston near Stratford-upon-Avon.

City Chairman Bryan Richardson said at the time that, although Mr Hendry had made "an expression of interest", there had been no serious discussions. He added that the Sky Blues' board would always consider any serious offer to invest in the club.

Rumours circulating in Coventry in the last 24 hours suggested that a meeting had taken place to discuss the sale of shares to Mr Hendry, but this was denied by a spokesman for Mr Hendry.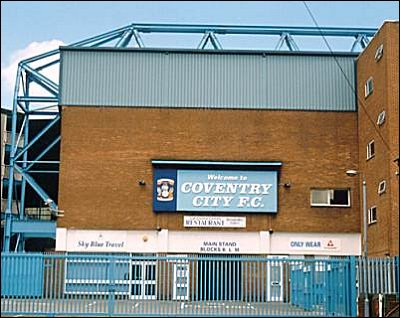 WILL THERE BE A NEW MAN AT THE HELM SOON?
The spokesman said that Mr Hendry will meet with his financial advisors next week to consider the next step, but he stressed that any further progress towards a bid for the club "depends on the financial advice" Mr Hendry receives.
Privately, close friends of Mr Hendry, who has Parkinson's Disease, have expressed concerns about his health and whether he would be fit enough to run the club in the way he would wish.
At Highfield Road, Bryan Richardson and his management team are continuing to prepare for the club's first season out of the top flight for 34 years. The First Division fixtures kick off on 11 August, and City are bound to start with a new-look strike force.
Australian International John Aloisi should complete his transfer to Ossasuna in Spain this weekend, Welsh star Craig Bellamy has moved to Newcastle United and his international team-mate John Hartson looks set to sign for Leicester City.
City, meanwhile, have agreed terms with Aston Villa for the swap deal involving Moustapha Hadji and Julian Joachim. Hadji is away with the Morrocan national squad but is expected to be at Villa Park to complete the formalities early next week.