[29 OCT 98] COVENTRY CRUSADERS NEWS
Crusaders Smith Is Back

One of Coventry's most successful basketball stars is returning to the city after three years.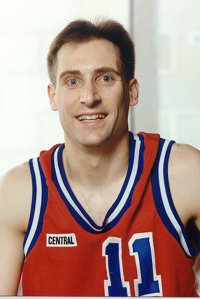 Jimmy Smith helped Mercia Health Benefits Crusaders to the league and cup double four years ago, and is now returning after a spell at Plymouth.
Crusaders boss Dip Donaldson has negotiated a deal to bring Smith back as assistant player-coach to Marcus Garvey, something which has delighted Donaldson.
He said:
"Jimmy has played for Plymouth for the past three years and he has had a tremendous amount of success with them.


"He is an excellent perimeter shooter. We have a lot of big guys here this season and he can help guys like Dylon Bogg turn their game around."
Smith will help with training and be given special responsibility for watching over younger members of the squad.
Donaldson said:
"Jimmy is 39 and has a lot of knowledge about the game. He not going to play the full 40 minutes a game week in week out, but his contribution will be very important both on and off court."