[25 AUG 99] COVENTRY CRUSADERS NEWS
Exciting Times Ahead For The Crusaders

Coventry's Mercia Health Benefits Crusaders new dawn in the city's fantastic new SkyDome Arena will have a distinct Gallic flavour.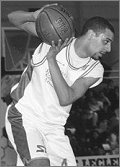 KARIM HOUARI
Head coach Dip Donaldson has strengthened his squad for the new season with seven new players including four Frenchmen and already they are a big hit.
The Gallic quartet captivated local fans on their first outing against USA Airforce Eagles in a friendly at Coventry Sports Centre on Saturday to underline claims that Crusaders will be among the most exciting teams in the NBL Division 1.
Crusaders' first few league matches will be played at their longstanding venue in Coventry Sports Centre but they hope their first match in the new 4,000 seater SkyDome Arena will be against Oxford on 20 November or possibly the National Trophy semi-final on 27 November.
It will be a tremendous showcase for the talents Donaldson has assembled for the forthcoming campaign and the players and supporters will revel in their new surroundings.
The league season starts on 11 September with a home game against Solent followed by another home match against Teesside on 2 October.
But basketball fans can get another sighting of the new signings on Saturday 28 August when Cardiff Clippers are in action against the Crusaders in Coventry Sports Centre (7.00pm).
They put in impressive performances in the 84-81 victory over the USA Airforce team and repeat showings will ensure a successful season.
Dip's line up for the new campaign includes: Frenchmen Karim Houari, Derrick Pope, Nicolas Vinsonneau and Pierre Bonneau and Americans Matthew Donaldson and Rick Solvason as well as Kevin Pinny, Colin Rhooms and Manny Shareland.
The team is building its fitness levels in training sessions four times a week at Tile Hill College between 7-9am.
Meanwhile Dip is seeking help in finding accommodation for the newcomers. He is looking for three three-bedroomed houses for his players – one to buy and two to rent.