[24 AUG 00] COVENTRY CRUSADERS NEWS
Crusaders Lure Another Star Over The Pond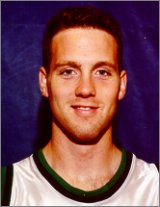 Bupa Coventry Crusaders have signed another American player and are hoping he will link up with the side next week.
Todd Sands is waiting for clearance from immigration before hooking up with former team-mate Adam Stevens. The pair used to play together in Mount Vernon, Ohio.
Sands, a 6ft 7ins centre, established himself as one of the premier post players in the history of Mount Vernon Nazarene College during his years there.
He averaged 15.8 points and 7.5 rebounds during his college career and an incredible 70.4 shooting percentage from the floor – giving him the best all-time career field goal percentage in NAIA Division II history.
Crusaders coach Dip Donaldson said he is looking forward to having the hard-working pair on his team this year.
He said:
"They are both young, athletic and very fast, which will increase the speed of the team considerably.

"They will be heavily involved in basketball development work which takes place not only in Coventry schools and local communities but also in Warwickshire."
Another new signing is guard Manny Shareland, who played in 10 games for the Crusaders last season when his other commitments allowed.
Last season Shareland was involved with FLY which involved taking a year out, to volunteer his time to work with two Coventry charities: Coventry Youth For Christ and Crusader Foundation.
He, along with several others did basketball coaching at schools and in the community, as well as attending and aiding CYFC programmes which were up and running, not only locally but with Youth for Christ nationally as well.
This season Shareland plans to concentrate on developing several aspects of the games of basketball by helping with marketing and coaching, as well as his contributions to the team on court.
Dip Donaldson, Head Coach for the Bupa Crusaders said:
"Manny's game, skills and confidence seem to have escalated since he first arrived here a year ago.

"He has a lot to offer us, on court as a lightning quick player, and off court as a great ambassador for basketball and for the Crusader organisations.

"His positive attitude at all times makes him a popular character on our team, and I look forward to having him as a regular member of the team this season."
Other players this season are Matt Collins, 5ft 10ins point guard originally from Northampton, but who has played in Ireland, Brixton, Crystal Palace.
He is hopeful of getting a job in Coventry and moving here to join the Bupa Crusaders camp.
Returning players from last year are Mark Bradbury, Marvin Livingston, whose work commitments have kept him out of training so far in pre-season, Alvin Scott, Derrick Pope, Dip Donaldson, and Colin Rhooms
Bupa Crusaders will be playing a friendly against Sutton Pumas on 2 September at the Coventry Sports Centre.
All proceeds from the match will be going to the Kiyindi School for Orphans in Uganda and the Crusader Foundation.
The game has been organised by Stivichall Primary School. Tip-off will be at 7pm.
The new-look Crusaders start their season 9 September, also at home. Ticket prices are £4.50 for adults and £3 for children.