[01 OCT 00] COVENTRY CRUSADERS NEWS
Crusaders Rocked By Shifting Sands

Coventry Crusaders have been shocked by the sudden departure this morning of their 6í7 American star centre Todd Sands.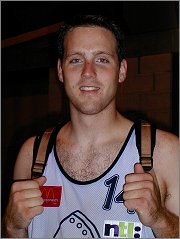 TODD SANDS READY TO LEAVE AFTER THE CRUSADERS' VICTORY OVER MANCHESTER MAGIC
[30 September 2000 - Chris Studman]
Sands only joined the Crusaders a few weeks ago when he came to link up with former Mount Vernon Nazarene College team-mate Adam Stevens.
The homesick American is now returning to Ohio saying that he could not settle here in England.
"I just couldnít settle. I felt the training sessions with our team would help to improve my game, and so far it has not.

"Also I feel I am needed more back home; in a way I feel I could be more use there in Ohio. It is 100% my decision," said Sands.
Sands worked as an assistant coach with the local high school team last year and he plans to return to work with them again.
"I know that I will be asked why I couldnít stick it out in Coventry, but I will deal with that face to face," Sands said.
The shock exit bought the Crusaders down to earth after their victory over Manchester the previous night in which Sands had played a key role.
Coach Dip Donaldson was naturally saddened by the loss of one of his American stars:
"I am disappointed with Sands departure. I felt he didnít keep to his contract agreement and now we have a hole to fill. But I do understand if a young man is homesick and letís face it, things in this country, basketball-wise are totally different from the USA.

"We will miss him. I would have liked to have kept him longer, but I understand his point, and I hope he will grow from this experience; I know I will."
The Crusaders meanwhile have a busy weekend ahead of them as they face back to back National Trophy games against Westminster Warriors.
On Saturday the Crusaders will play at Westminster, and then they return home on Sunday to play the London team again at the Coventry Sports Centre - tip off 1pm.