[27 OCT 98] COVENTRY CRUSADERS PRESS RELEASE
Smith Returns To Crusaders

The Coventry Crusaders are pleased to announce the return of former Crusader Jimmy Smith as player and assistant coach. After 2 years at Plymouth Jimmy has decided to return to Coventry to help the Crusaders develop and become the best winning team in Division One, once again.

Jimmy has been involved with the Crusaders since 1992 when he commentated for Crusader home games shown on Coventry Cable, he then became a player for the Crusaders and was part of the winning formula at Wembley in 93/94, runners up 94/95, 3rd place in the league in 1995/96. Dip Donaldson believes that Jimmy Smith is another piece to the jigsaw that will make the Crusaders winners this season, he said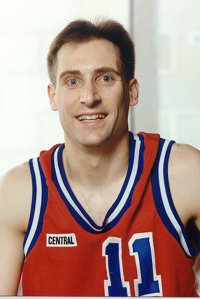 "Jimmy has a lot of experience, good ideas and communicates extremely well with team mates, he will be a great support for Marcus Garvey and the players. I look forward to having Jimmy back with the Crusaders"
Jimmy Smith will play this week at the Coventry Sports Centre against Teesside on Saturday 31st October. Milek Jivens will make his first appearance at home after scoring 29 points against Taunton last week, he is confident that he can score as well as this for the rest of the season.

The Crusaders will play Cardiff Clippers in the ¼ finals of the National Trophy at the Coventry Sports Centre on 7 November, 7.30pm. The league home game against Cardiff C proved to be a tough fight for both teams with a nail-biting finish, ending in a 75-72 victory for the Crusaders. Cardiff C beat London T, 80-75 in round three with leading scorers McNeil 27, McNally 20, Jones 14