[20 NOV 98] COVENTRY CRUSADERS PRESS RELEASE
Free Bus Travel For Crusader Coaches

Four Crusader Foundation Community Development Coaches and Coventry Crusaders players have each received a Travel West Midlands Buspass.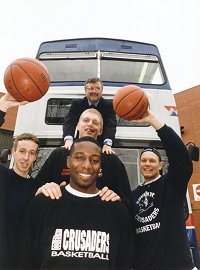 Milek Jivens, Rick Solvason, Robert Clarke and Alan Cox coach in approx. 46 primary schools, 13 secondary schools and 26 other venues across Coventry and Warwickshire, reaching over 3000 young people each week. These dedicated coaches travel from school to school on bus, every day making the travel cards a valuable donation by Travel West Midlands.
The aim of the Crusader Foundation is to reach as many children in Coventry and Warwickshire to pass on the great expertise, knowledge and love for the game of basketball, using it as a base for positive fun learning and entertainment. Without the support of local businesses like Travel West Midlands this work would not reach the 3000 children each week in this area.
Dip Donaldson, Chairman of the Crusader Foundation said,
"This is a great way to link the community work with Travel West Midlands, as the coaches use public transport every day."
If you would like to know more about the Crusaders Community Development Programme, contact the Crusader office on 01203 831485.