[10 JUL 00] LEAMINGTON FC FOOTBALL NEWS
Home Turf For Brakes' First League Games

The revitalised Leamington FC will have their first two matches on home turf.

The new fixture list shows the club will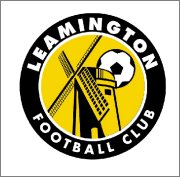 play its first match in 12 years in front of a local crowd.
The new ground at Harbury Lane will see the new Leamington FC play Enville Athletic on Saturday 19 August with a 2.45pn kick-off.
And the next game should see the new supporters flock back and watch The Brakes play Earlswood Town on Tuesday 22 August from 6.45pm.
David Hucker, club secretary, said:
"In all, six of the first nine matches will be on our own New Windmill Ground.

"We are pleased to have so many home matches as our supporters will regain the habit of watching the club and the pitch will be at its best."
The club traces its history back 110 years, but has not played a game since 1988 after the sale of their ground, The Windmill.
The club has unveiled it new logo, which shows a windmill, and the new ground name also has a throwback to club history.