[21 JUN 99] GOLF NEWS
Local Man Wins British Short Course Title

A Warwickshire professional has beaten off opposition from some of Europe's top competitors to secure victory in one of the golfing calendar's most unusual events.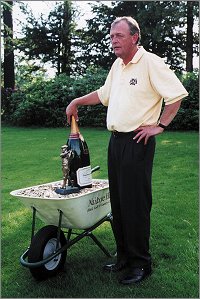 Welcombe Hotel and Golf Club professional Carl Mason consistently produced top quality golf to lift the British Short Course Championship trophy at Nailcote Hall, Berkswell.
And although he was delighted to take the plaudits and the £5,000 prize money, Mason admitted that it was delivered in a rather unusual way – Nailcote owner Richard Cressman gave him a wheelbarrow full of £1 coins!
He said:
"I have won events on the European Tour in my 25 years as a professional but I have never had the prize money rolled up to me in a wheelbarrow before.

"I've heard of being paid in cash but that is ridiculous," he joked. "I much prefer the crispy stuff."
The tournament consisted of four rounds of Nailcote's testing par 3 course, and Mason revealed it was far more difficult that it looked.
He said:
"The course was really tricky as most of the holes are very deceptive with danger looming on every one.

"I just made sure that I concentrated on getting my shot the right length each time because you can get into real trouble if you go over the back on the greens."
It seems however that Mason got his length exactly right as he finished the tournament seven-under-par, including a course record shattering 21 on the final day.
Mason, who last year retired from the European Tour, was one of only five players to finish under par for the competition and revealed his pride in victory.
He said:
"With Ryder Cup hopefuls like John Bickerton and Peter Mitchell in the field along with many other well known current players it is a great feeling to win.

"It is the first time I have played the tournament and I was very surprised at how well run it is – I believe it has a very big future and I am hoping to defend my title next year."
FINAL RESULTS (TOP 10):
1ST 101 (-7)
Carl Mason
2nd 106 (-2)
Steve Webster
Ross McFarlane
Steve Field
John Jones
3rd 108 (level)
Mark Toombs
Kevin Dickens
Finlay Clark
Iain Clark
4th 109 (+1)
Lee Bashford