[19 MAR 01] COVENTRY BLAZE NEWS
Talisman Chartrand Signs For Two Seasons

Coventry Blaze have received an early boost to next seasonís campaign with the news that captain Steve Chartrand has signed a new contract.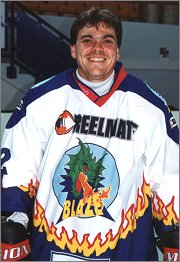 It is common for ice hockey players to be on one-year contracts and a massive horse-trading session to start in the close season, but Chartrand has been signed for two years.
The move means that Coventry Blaze have three players signed to form the foundation of next yearís team: Chartrand, Michael Tasker and Stephen Cooper, who joined from Hull in January.
Chartrand, captain of the side and the FBNL player of the season, is the Blazeís talisman. When he was injured in January and February, the teamís confidence disappeared as they lost game after game.
The French-Canadian scored over 100 points this season, and his signature was confirmed at the end-of-season awards evening on Friday.
Head coach Paul Thompson said:
"To win the Player of the Season award, even though he was injured for so long, shows just how well regarded Steve is.

"I'm delighted that we have secured his signature for another two years.

"He's an inspirational player and leader and will be a core member of the squad for next year. Adding him to Michael Tasker and Stephen Cooper gives us three quality players to start building from."
Operations Director Grant Charman added:
"Steve is an exceptional talent in this league. There is no doubt that we suffered this season when he was injured and his signing is a fundamental part of the planning for next year."