[23 JUL 98] RUGBY NEWS
Gerry Sugrue Resigns From Troubled Coventry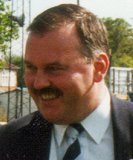 The chairman of crisis rugby club Coventry has resigned.
Local businessman Gerry Sugrue stepped down as the Allied Dunbar Premiership Two club faces a fight for its future.
The Coundon Road outfit - one of the sports leading names in the 1960s and 70s - has crippling debts and has lost a dozen senior squad players in the last two months.
The club sold its ground to a housing company to pay off debts of £1.4 million and to settle with players who had not been paid for two months. It can remain at Coundon Road for next few seasons and is currently searching for a new home.
Coventry RFC now faces a battle to be ready for the new season after the mass exodus of players.
A statement from the committee said:
"Gerry Sugrue has tendered his resignation as chairman of Coventry Football Club (Rugby). The committee accepts his decision and places on record its appreciation for his unstinting efforts to raise Coventry to the forefront of English Rugby Union.

"Mr Sugrue has devoted an enormous amount of time and energy to the interests of Coventry, often putting his own health at risk but he has now decided he can no longer devote the time needed to a club struggling with the demands rugby union's new professional era."
RELATED STORIES
[15 JUL 98] Three More Leave Coventry Rugby Club