[09 FEB 99] SPORTS NEWS
Coventry Rugby Club Sack Eves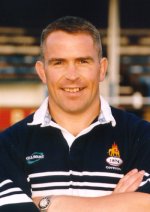 Derek Eves, Coventry RFC's director of rugby, has been sacked. He stays with the club purely as a player.
Yesterday he was the supremo with the power to hire and fire, today he does not even know whether he will be in Saturday's side to play Blackheath at Coundon Road. The side's run of poor form brought about his downfall.
The new director of rugby is Keith Richardson, the England A coach, formerly coach at Gloucester and Harlequins.
Richardson takes over at the end of the season and meanwhile school headmaster Peter Rossborough will act as director of rugby.
Rossborough is well qualified. He won England caps while playing for Coventry, he coaches the Midlands regional squad and was manager of the England A team which toured Canada. He has been helping out with coaching duties at Coventry this season.
Eves, who was signed from Bristol three and a half years ago, is the victim of Coventry's recent run of bad form. The side has lost its last four matches, slipping below halfway when they had looked capable of mounting a promotion challenge.
The 33 year old's own form has never been questioned, but Coventry have now decided that the burden of being a player as well as team supremo is too heavy for one pair of shoulders.
Keith Fairbrother, Coventry's chairman, said:
"The board feels it is acting in the club's best interests. Having a player as director of rugby does not really work.

"Only Francois Pienaar at Saracens has proved successful combining the two jobs.

"Derek's commitment to the club is unquestioned. He is an outstanding player and has always led from the front, but we feel our best way forward is to divide the responsibilities."
The disappointed Eves was refusing to make any comment today, but a close friend said:
"He has been told his current contract remains unchanged to the end of the season. I think you will find that he will honour it and stay on as a player – if selected."
Richardson, who played against Eves in the tough local derbies between Gloucester and Bristol, said:
"I am really looking forward to it. Coventry were the best side in the country in their great days and they have not fallen as low as some clubs. They are a sleeping giant and I am very excited about this challenge."