[22 FEB 99] SPORTS NEWS
Eves Plays Last Game For Coventry Rugby Club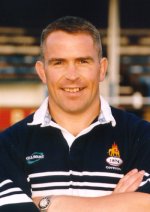 Derek Eves, Coventry's former director of rugby, has played his last game for the club. He is expected to rejoin his old club Bristol in the next 48 hours.
Scottish international prop forward Alan Sharp, who was signed from Bristol by Eves, is expected to go with him.
Coventry rugby club said that the moves had been agreed with Bristol and it is now up to the players to make their decisions and agree personal terms.
The players said today that they were still thinking over the move.
Both of them were at Coundon Road yesterday to watch Coventry record a last ditch victory over Bristol to prevent the west country club taking over at the top of Premier Two.
A stoppage time try and conversion by Steve Gough clinched it for Coventry amid jubilant scenes. Eves and Sharp must have had mixed feelings.
Eves in particular has played a major role in lifting Coventry up the league. His enthusiastic style on and off the pitch has propelled the club forward at a tremendous rate.
They languished in the Third Division when he took charge but he led them to the championship in his first season in charge and then to the Premier Two play-offs. They missed out on promotion to the top flight by losing to London Irish.
The club had its off-field problems however and the receivers were called in during the summer. It now operates as a limited company under the chairmanship of former Coventry and England player Keith Fairbrother.
It was he who announced recently that Eves had been relieved of his duties as director of coaching but would remain as a player under the terms of his contract, reportedly £120,000 a year. That contract runs out at the end of the season.
The new director of rugby is Keith Richardson, the former England A coach, who said after Saturday's win:
"This club has tremendous potential. It is a sleeping giant. The players showed massive belief in this match and it paid off. They showed courage and honesty in refusing to be beaten by a much bigger set of forwards. There is much to build on here."