[29 MAR 99] COVENTRY BEES SPEEDWAY NEWS
Coventry Bees Run Into Trouble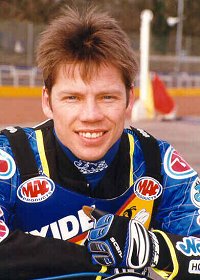 Coventry Bees are surveying the ruins of their season's start in which they have no victory in their first four matches and have lost their skipper Brian Andersen with rib and collarbone fractures.
Supporters left early during Saturday's meeting at the Brandon Stadium in Coventry when the match against Oxford was held up while repairs were made to the track.
At present Coventry have just one draw to show for their efforts and that was in the first leg of a Challenge match against Wolverhampton. They lost the second leg at Wolverhampton and then went down in the Craven Shield to Ipswich and Oxford.
It was at Ipswich that Andersen suffered the horrific injuries which will keep him out for two months. He said:
"I was in the outside position at the start and Ipswich is a very narrow track. My foot rest got caught up in another riders' wheel and I somersaulted over my handlebars.

"I thought I had suffered a very, very serious injury but X rays at Ipswich hospital showed I had broken two ribs in my back and broken my left collarbone.

"I am in a lot of pain and it is at times like this that you do wonder whether it is time to call it a day. I have been injured in each of the last three seasons but I have only just celebrated my 28th birthday and there is still some distance to go for me to achieve my personal goals in the sport.

"I suppose there will come a time in the future when you have to consider life after speedway. No one wants to finish in a wheelchair."
Coventry's boss Colin Pratt is now chasing guest riders to fill in for Andersen while the Dane recovers.
He apologised to the supporters for the inconvenience at Brandon on Saturday night when the match was held up for an hour while the track was re-graded.
"We can't do anything about the weather," said Pratt.

"Even so I was very disappointed with some members of our team. If they don't get their acts together quickly there will be major changes. We have to fight back at Oxford on Friday and then put in a solid performance at home to Kings Lynn on Easter Monday.

"We have made a bad start to the season and it is up to us to put it right quickly."
THE RESULT OF THE CRAVEN SHIELD MATCH ON SATURDAY 27 MARCH 1999:
COVENTRY BEES 34 OXFORD 54
DETAILS AND A MATCH REPORT ARE ON DAVID ROWE'S BEES SITE