[03 AUG 99] CLUB EUROPE NEWS
Pink Parrot To Fly Again

Coventry's night clubs will increase by fifty per cent by the millennium if all applications for licences are successful.

The city can boast eight night clubs at present but another four are due to open to push Coventry to the forefront of the regional leisure industry.

The latest application is from the owners of the former Pink Parrott in Tower Street adjacent to the Post Office main sorting office in Bishop Street in the city centre.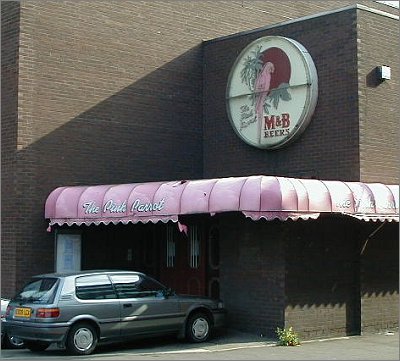 THE FORMER PINK PARROT NIGHTCLUB, TOWER STREET, COVENTRY

The application for a late drinks licence will be heard by the city's licensing justices on 6 September. If it is granted the owners will immediately commission a complete refurbishment of the building and will re-launch as 'Club Europe'.

Michael O'Brien, a director of the company started by his father which also owns Irish 2000, a night club in Spon Street said:
"I cannot too much about our plans for Club Europe before our application is heard by the magistrates.

"As far as I know the police are raising no objections. We would embark on a complete refurb and try to design a modern club with a European flavour to appeal to a wide spectrum of people."
The Pink Parrott, which has a capacity of around 1,400, ceased to trade when the police objected to the renewal of its drinks licence four years ago.
All leisure establishments in Coventry face massive competition from the Rank Leisure entertainment experience when it opens in Spon Street in the autumn.
"Whether you are a club, a pub or a high tech disco you will face enormous competition from the Rank centre," admits Mr O'Brien. "They say competition is healthy for the consumer – I am not sure too many club owners would agree from their own perspective," said Mr O'Brien.
The Rank centre will include two night clubs, nine cinemas, restaurants and bars. In addition a privately owned cabaret club is due to open in the former Theatre One premises in Lower Ford Street as well as the proposed Club Europe.