[17 AUG 00] GAS STREET NIGHTCLUB NEWS
Paul Wins A Holiday As A Chip Millionaire

A Rugby clubber is jetting away on holiday after scooping top prize in a casino competition in a nightclub in the town.

Gas Street Nightclub held five fun 'Casino Royale' evenings in July with revellers being given £10,000 of tokens when they entered the venue.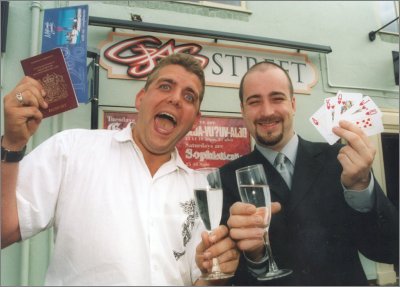 PAUL JONES AND DARREN SMITH CELEBRATE THE WIN
Club-goers were able to play roulette, black jack and other games to try and increase their stake and make the most money.
One canny gambler turned his £10,000 into nearly two and half million 'Gas Street' chips to win himself a trip away and a year's VIP status at the nightspot.
Paul Jones of Shuckburgh Crescent admitted that he never gambled properly and had only taken to the tables as a break from dancing.
He said:
"The casino nights added an extra bit of fun to the normal dancing and socialising, but I certainly didn't expect to win when I started.

"I realised after a while that I was doing well, which was quite surprising because I had expected to lose the stake Gas Street had given me in about two minutes.

"The holiday voucher is fantastic and I would love to say I am planning to use it for a trip to Vegas to win some real money - but I may not be so brave on the tables with my own cash!"
Gas Street manager Darren Smith revealed that 'Casino Royale' could make a return to the club after going down a storm with customers.
He said:
"It was always intended as a fun event and that was exactly how it was taken, people were pleased to be able to play on the tables with somebody else's money!

"Paul did superbly to amass the amount of chips he did, and we were delighted to give him the holiday voucher and VIP membership."