[06 JUN 01] GAS STREET NIGHTCLUB NEWS
New Manager For Gas Street

One of the leading lights of the leisure industry is bringing her expertise to Rugby after being asked to run a top nightspot.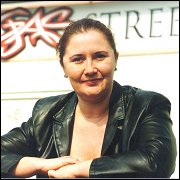 Jane Brett has been handed the top role at the town's Gas Street Nightclub after several years of management experience within Luminar Leisure, one of Europe's largest night-time operators.
Ms Brett, 33, became the organisation's youngest female general manager in the country when she took the reins in Swindon seven years ago, and has held high posts at top venues across the country including London's famous Equinox.
Most recently she ran Northampton's 1,600-capacity Visage outlet but moved to Rugby after experiencing the town's atmosphere first hand.
She said:
"I made a visit to Gas Street on an operational night and was hugely impressed by the intimate, friendly atmosphere that the clubbers created.

"Gas Street underwent a £1 million refurbishment programme a year ago and the venue really does offer an excellent night out.

"There is massive potential for the club and I am looking forward to living and working in Rugby.

"One of the major attractions of Gas Street is the fact that it is effectively three venues in one, so we can offer tailored entertainment to three different markets.

"We do not have to compromise on music or surroundings to suit the over 20's and also the over 25's, because we have the ability to specifically cater for both.

"There is also the VIP 'chill-out' area which is a great accessory for a club and is regularly praised by visitors to Gas Street."
The appointment of Ms Brett continues the investment that Luminar are making in Rugby nightlife and regional manager Andy Grieve believes it will be a further boost to the town.
He said:
"Jane is very well respected within the industry for her running of clubs and we are delighted that she has taken the Rugby post.

"Gas Street is a superb club and that combined with Jane's experience will help build on the success and reputation that unit has already achieved."