[20 APR 00] MILLENNIUM AND LIBERTY'S NIGHTCLUB NEWS
Easter Eggs Pile High For Nuneaton Children

A Nuneaton nightspot is hoping to give youngsters at George Eliot Hospital an Easter to remember after announcing a novel admission rate.

Millennium and Liberty's nightclub on Leicester Road has decided to offer free entry today - providing revellers bring along an Easter egg.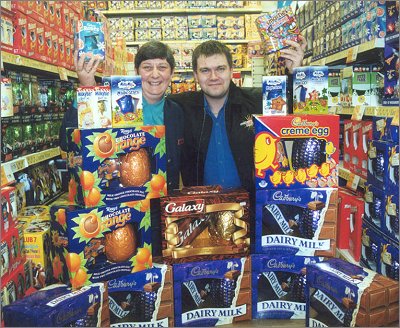 SIMON MOPPETT WITH WOOLWORTHS ASSISTANT MANAGER ANN BELL
The eggs will be taken at the door and delivered to the children's ward at George Eliot Hospital in time for Easter Sunday.
The club has a capacity of 1,500 and general manager Simon Moppett is hoping that will mean a mountain of chocolate for Nuneaton youngsters.
He said:
"We are always keen to support local charities and organisations and Easter is one of the times when there is something obvious you can do.

"It means that we can swap one night's door taking for a great haul of Easter eggs that can then be distributed by the children's ward of the hospital."
And the club has already begun its collection, with the Nuneaton branch of Woolworths having offered to get the egg collection started.
Store manager Frank Harrison believes that Millennium and Liberty's has come up with a great idea and said he was only too pleased to help.
He added:
"Children love Easter and is great to be able to get involved with something that is likely bring pleasure to some kids who may be having a rough time in other ways.

"We have got the ball rolling with the first ten eggs and I am hoping there will be hundreds more added to that before they are delivered to the youngsters."
MORE INFORMATION: Advent Communications 024 7663 3636