[26 MAY 99] COVENTRY AND WARWICKSHIRE PROMOTIONS NEWS
Coventry People Inspire New Slogan

The search for a new slogan to represent Coventry has come to an end after the city's imaging committee announced that they had settled upon a catchline.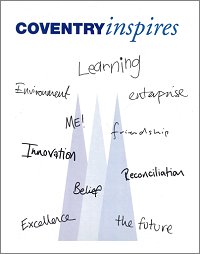 Coventry and Warwickshire Promotions launched an initiative for people from the city to send in their ideas about what words should accompany the Coventry logo.
Visitors to the city were previously greeted with the phrase "The city in the heart of Shakespeare country", but this proved to be unpopular as it did not relate specifically to Coventry.
After receiving a phenomenal response to their request for people to send them ideas on a replacement catchline, the imaging committee announced that they chosen a combination of several suggestions.
The committee's chairperson Cyrrhian Macrae, who is also Director of Corporate Affairs at Coventry University, was delighted with the response which led to the new slogan – 'Coventry Inspires'.
She said:
"We did not want to employ an expensive marketing firm to come up with a logo when we knew that the people of Coventry would have more enthusiasm and passion than anyone.

"The amount of suggestions we got was absolutely brilliant and in the end we have chosen a combination of several different replies.

"The new 'Coventry Inspires' slogan means so much to the city because it combines Coventry's history with its future, and it is a city which has inspired a lot of things.

"We hope now that the saying will be widely used and become synonmous with Coventry, it is reflective of everything which is going on in the city at the moment like the Phoenix development and the new Leisureworld."
The new slogan will be used on boundary, ring-road, city centre and rail-side signs as well as things like parking tickets, payslips, letter headings and merchandising.