[10 SEP 99] COVENTRY AND WARWICKSHIRE PROMOTIONS NEWS
Coventry Heritage Buildings On Show

Heritage Open Days will actually happen in Coventry this year – and look to be heading to success.

The Civic Trust scheme this weekend allows the public to see buildings usually out of bounds to the general population and has become a popular annual event in the five years since it was first launched.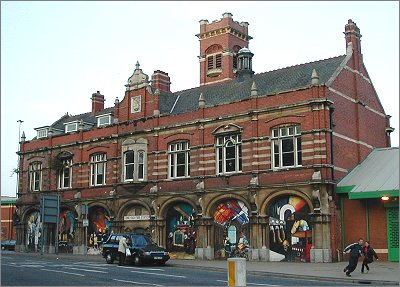 OLD FIRE STATION, COVENTRY CITY CENTRE
[photograph taken by Chris Studman, July 1999]

The two day event, always held on the second weekend of September, was ignored by the city last year but the council has now passed control to Coventry and Warwickshire Promotions, the partnership company which promotes the city.

And the organisers are confident they will attract a large crowd.

Peter Walters, of Coventry and Warwickshire Promotions, said:
"We were included in the Guardian brochure publicising the event and have had to re-print our leaflet after 3,000 copies went out.

"It didn't happen last year for a number of reasons and the council have asked us to control it this time. The signs are certainly looking good.

"The days just give people a chance to take a peek behind the scenes at familiar buildings that they have only seen from the outside.

"We have also laid on entertainment at some of the sites that will give people more of an insight to the buildings.

"One of highlights will probably be the old Fire Station. It could well be the last time people see the building as it is, because there has been a strong application to convert it into a pub.

"The Old Blue Coat School in New Buildings will also be open for people to see. That is currently being worked on and dates back to the 1850s."
The buildings open are: The Blue Coats School, The Museum of British Road Transport, The Old Fire Station, Holy Trinity Church, St Michael's Church, Herbert Art Gallery and Museum, St Mary's Hall, The Council House, The Tourist Information Centre.
The opening times are 11am to 5pm on Saturday and noon to 5pm on Sunday, with slight variations.
The Coventry Watch Museum Project will also be participating in the weekend.
Its temporary museum on the upper level of The Lower Precinct (number 76) will be open on both days from 10am until 4pm.
The display of watches, clocks, tools and artefacts will be on view and copies of their booklet and video will be available to purchase.
For more information contact Peter Naul (phone 01203 402331) or Paul Shuflebotham (phone 01203 502916).