[15 OCT 99] COVENTRY AND WARWICKSHIRE PROMOTIONS PRESS RELEASE
Daring Skywalk For Millennium Eve

Is it a bird? Is it a plane? Is it ... no, not Superman exactly, but a man on a high wire, fulfilling an awe-inspiring challenge from more than a hundred years ago.

Back in 1884 the great Charles Blondin asked the authorities in Coventry if he could stage a tightrope walk between two of the city's famous three spires, Holy Trinity and St Michael's.

They turned him down flat but on Millennium Eve 1999 that stunning skywalk will finally be performed, as the centrepiece of Coventry's Millennium celebrations.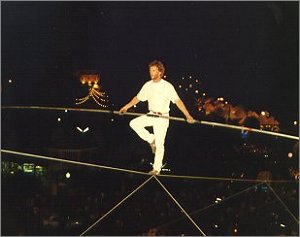 RAMON KELVINK

The man on the high wire will be fifth generation tightrope walker Ramon Kelvink, from Bordeaux. And to accomplish Blondin's airborne stroll he'll have to walk a distance of 80 metres, at a fairly steep incline, at a height of more than 40 metres above the ground.

It will be floodlit, musical and spectacular and it will be potent with millennial symbolism. St Michael's is Coventry's ruined cathedral, blitzed in 1940. And Coventry IS Britain in the 20th century, in microcosm reflecting all the great themes of rapid industrialisation, war and peace, immigration and town planning, boom and slump.

Ramon Kelvink's aerobatics will be the high point of more than 12 hours of live entertainment in the historic heart of the city. Giant video screens will broadcast images from some of Coventry's 26 twin towns and greetings from the city's famous sons and daughters. A three-hour family variety show will feature performers from as far afield as Tanzania, Hungary and Brazil. Live music will range from the 1940s into the future.

NOTE: This is a Millennium Commission Lottery project, forming part of the UK wide Millennium Festival



SEE ALSO:
[07 JAN 99] COVENTRY TO CELEBRATE MILLENNIUM WITH TIGHTROPE WALK