[07 DEC 99] COVENTRY AND WARWICKSHIRE PROMOTIONS NEWS
Millennium Tight Rope Walk On BBC

Coventry will get its four minutes of fame during the BBC's coverage of events on Millennium night.

A spectacular tight-rope walk between the spires of Holy Trinity Church and the old Coventry Cathedral will take one of the top slots in the channel's programme of events, being shown between the lottery draw and the Queen lighting the first beacon.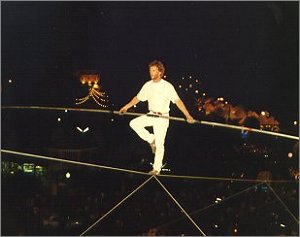 RAMON KELVINK


The BBC will broadcast four minutes of material live from the city, hopefully showing the conclusion of Frenchman Ramon Kelvink's daring walk.

Kelvink's feat is due to begin at 9.20pm with the BBC going live from the scene at 9.36pm, and the Frenchman has told organisers that only gale force winds stop him.

Pete Walters of Coventry and Warwickshire Promotions, which is co-organising the event with the City Centre Company, believes it is great news for the whole of the city.

He said:
"I am sure that it is one of the most unique and visually pleasing events to be taking place across the country, and I am not surprised that it has attracted television coverage.

"The BBC has said that as well as going out on the domestic channel the walk may also be shown on World Service so that would obviously mean a massive audience.

"It would be fitting because Coventry actually has a far better established reputation around the world than it actually does in this country, with Germany, Russia and Ireland all recognising the City's historical value.

"It will be great for Coventry and although other cities in the Midlands have got slots during the evening, this is a real prime time location."
It is now hoped that other television companies will join the BBC in covering the event with Walters admitting there has been further interest.
He said:
"Both ITN and Sky Television have enquired about the walk and I would be very surprised if they were not here.

"After all you cannot get anything better suited to television than a man in white walking across a night sky on a tightrope between two historic cathedral spires."
The only disappointment about the event so far has been the lack of corporate sponsorship to help cover the costs, but Walters stresses it will remain free to the public.
He said:
"I know there are other cities running schemes where you have to pay to see the attractions but we want ours to be free.

"I have been surprised at the lack of interest from sponsors especially since the television coverage is very conducive to promoting companies."
SEE ALSO:
[07 JAN 99] COVENTRY TO CELEBRATE MILLENNIUM WITH TIGHTROPE WALK