[05 JUN 00] COVENTRY AND WARWICKSHIRE PROMOTIONS NEWS
Festival Motorcade To Mark City's Heritage
Coventry's rich motor heritage will proudly drive through the streets of the city as part of the Godiva Festival on Friday.
The cars will gather in the Memorial Park before embarking on a circuit at 6pm that will take about 45 minutes.
More than 100 cars dating back as far as the 1930s will take part in the motorcade, which is organised by young trainees at festival sponsors Peugeot and Jaguar.
Cars on show include an 1932 Austin 7, a 1933 Ford, three Jaguar E-types and a clutch of Rileys, Humbers, Sunbeams, Singers and Rovers.
The Sky Blues victory bus used for the parade after the 1987 FA Cup Final success will also take part, and there will be some cars from the collection at the Museum of British Road Transport.
The route will go down Kenilworth Road and Kenpas Highway, into the city via Leamington Road and Warwick Road, along the ring road to Radford Road, and returning to the park via Moseley Avenue, Holyhead Road, Allesley Old Road and Earlsdon Avenue.
Before and after the run members of the public will be able to look at the cars in the Park and Ride section of the park, which will be closed to normal users.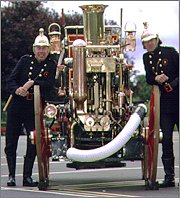 Also on show will be the new luxury Peugeot 607 and some classic old fire engines.
As in previous years the car judged the finest by all the participants will be awarded a trophy.
Last year's winner, a 1967 Jaguar E-type DMC owned and cared for by Bob Beecham, of Main Road, Meriden, will be taking part.