[05 JUN 00] COVENTRY AND WARWICKSHIRE PROMOTIONS NEWS
Tightrope Walker Captured On Film

A video of the death-defying millennium tightrope walk between Coventry's old cathedral and Holy Trinity church is to go on sale at the Godiva Festival.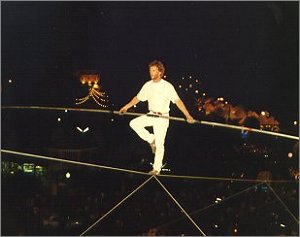 RAMON KELVINK DURING HIS TIGHTROPE WALK
More than 30,000 people crammed into the city centre on Millennium Eve to watch the walk, but TV viewers missed out on the chance to see the stunt.
A technical fault with the National Lottery meant the draw over-ran and Coventry missed its slot on the BBC's marathon show.
Now a 25-minute film featuring the walk by Ramon Kelvink is available as a permanent keepsake.
The video also features interviews, live music, street acts and extraordinary footage of the evening's high wire acts.
Ramon's exertions on a giant oscillating pole have been captured as well as his spectacular skywalk, which was witnessed by more than 30,000 people in the city centre.
The video goes on sale at the Godiva Festival in the Memorial Park at a special price of £5 at the Tourist Information Centre stand. After the festival it will be on sale in the Tourist Information Centre in Bayley Lane for £8.99.
It will also be showing on a giant screen in the Space Tent at the festival on Saturday at 1.50pm and 4.30pm and on Sunday at 2.30pm, 3.45pm and 5.30pm.
It's been made possible with help from Millennium Eve cash sponsors Brose, Jaguar, Marconi and ntl: and from partners Coventry City Council and the City Centre Company, Coventry.
Rae Hoole, head of events for Coventry and Warwickshire Promotions, said:
"We wanted to make this film for people who were there and wanted a reminder, but also for those who were not able to be in the city centre on the night."
More information from the Tourist Information Centre on 024 7683 2303.