[26 JUL 00] COVENTRY AND WARWICKSHIRE PROMOTIONS NEWS
Coventry Wins More Party Cash

Coventry is to host another big night of festivities to mark New Year's Eve after winning a grant to pay for the celebrations, but this time there won't be a tightrope walker.

A big-name, but so far mystery, band is being promised to headline the party in the city centre.

A grant of £90,000 has been awarded by the Millennium Commission for the celebrations. With match-funding from Coventry City Council and income from stall-holders, organisers Coventry and Warwickshire Promotions have got £210,000 for the event.

The city has been given the money after a hugely successful programme of events last year.

The highlight was a daring tightrope walk by Ramon Kelvink from the spite of Holy Trinity church to the old cathedral.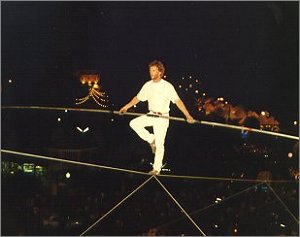 RAMON KELVINK DURING HIS TIGHTROPE WALK
More than 30,000 people crammed into the city centre to watch the death-defying spectacle and to mark the new millennium.
Coventry is now one of 30 towns and cities to be given cash for more festivities this year, with the donation from the Millennium Commission being increased from last year's grant of £80,000.
News of the £90,000 award was being announced in Birmingham today by Millennium Commissioner and Minister to the Cabinet Office Mo Mowlam MP, who grew up in the city.
Rae Hoole, head of events for organisers Coventry and Warwickshire Promotions, is one of the keynote speakers at today's national New Years' Eve Conference at the International Convention Centre in Birmingham.
It was her idea to stage the stunning high wire walk, which attracted more than 30,000 people to the city centre on New Year's Eve, and she will speak on "catching the imagination".
Rae said:
"With matching funding from the council, this grant allows us to stage the celebrations on a significant scale.

"New Years' Eve 99 was a special event and a one-off. We're now seeking to lay the foundation of a New Year's Eve event that will last and will make Coventry an interesting place to celebrate it in the years to come".
Now the funding has been secured, acts will be booked for the celebrations.
There will be a lantern procession for children from the Herbert Art Gallery to one of four stages in the city centre.
Entertainment will be on a world music stage, a family entertainment cabaret stage, there will be a DJ and a circus stage, which will play host to the main act.