[08 AUG 00] COVENTRY AND WARWICKSHIRE PROMOTIONS NEWS
Tina Jazzes Up Chocolate Factory

The Oompa-Loompas will be swinging at this month's Coventry Jazz Festival when Willy Wonka's magical world is re-created by one of the country's outstanding singers.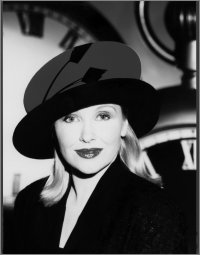 Tina May, winner of best vocalist in the 1998 British Jazz Awards is to team up with clarinet and saxophone great Tony Coe for a set that promises to be full of fun and smiles.
It's the first time May will play a non-themed gig with Tony Coe.
The pair have together in the past, but never to deliver the variety of songs they intend to play in part of the Coventry festival.
One of the familiar tunes Tina May will be singing comes from Willy Wonka and the Chocolate Factory.
She said:
"My little boy and girl were watching the film and told me to come along and watch.

"I heard the song 'Pure Imagination', which Willy Wonka sings when he leads the children into his edible world and was hooked. It is such a lovely song and we will be playing it swing style."
Tina said:
"Tony Coe is a fabulous player and he jumped at the chance to play this gig because we have a lot of favourite music in common.

"We're going to play a mix of familiar and unfamiliar tunes but it will be lots of lovely swinging stuff."
Tina May and Tony Coe will be joined by piano player Robin Aspland, bass player Alec Dankworth and drummer Tristin Mailot for their set at Frederics in the Leofric Hotel on Saturday 25 August at 7.30pm.
For festival ticket and booking information contact the Coventry Tourist Information Centre at Bayley Lane, Coventry, tel 024 7683 2303 / 2304.