[25 SEP 00] COVENTRY AND WARWICKSHIRE PROMOTIONS NEWS
Coventry Gets Ready To Go Online

The first installation work creating a website to put Coventry on the world's cyber tourist map has begun.

CWN is one of the major players in the £500,000 project, dubbed Coventry On-line.

With European funding also behind the scheme, Coventry On-line will provide a state-of-the-art destination web-site allowing visitors to book accommodation, conference facilities and other attractions in the area over the internet.

The first phase of the site should be completed next spring and work to install a new network system has been undertaken by HST Computer Services, part of the Harry Shaw group.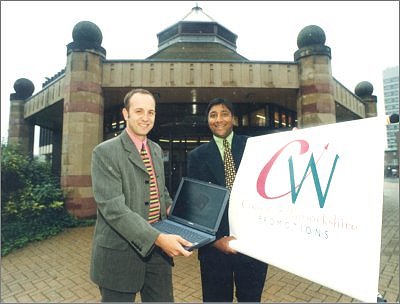 RICHARD HOOPER OF HST AND VIJAY SUKHAI OF CWP OUTSIDE THE TOURIST INFORMATION BUREAU
Vijay Sukhai, of Coventry and Warwickshire Promotions said the new site would be one of the finest of its type in Europe.
He said:
"It will allow visitors and potential visitors to find out everything about the city and also on-line book a host of different events and facilities. They will also be able to buy city merchandise.

"The Tourist Information Centres and our offices will be linked allowing us to regularly change information such as hotel tariffs and room availability."
Coventry University are also involved in the scheme, as are design companies Parenthesis and Nooode.
Richard Hooper, business development manager of HST Computer Services, said the computer infrastructure was now in place.
"The contract has taken a couple of months to complete but it is an on-going project. It is a very prestigious contract for the company and we are glad to be playing a part.

"It is quite ironic that the Harry Shaw Group has down the years taken Coventry people out of the area and across Europe and now we are trying to attract others to our city."