[26 SEP 00] COVENTRY AND WARWICKSHIRE PROMOTIONS NEWS
Coventry Gets In With The Glossies

Coventry has taken a step into the glossy league with the production of a high-quality guide for tourists.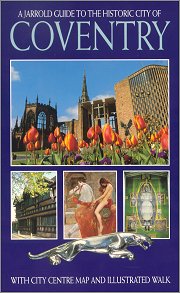 The 32-page colour publication is the first of its kind detailing the attractions of the city.
It has been produced by guidebook publishers Jarrold of Norwich and will sell across the country.
The book will also be available from the Tourist Information Centre in Bayley Lane, which is managed by Coventry and Warwickshire Promotions.
The guide features a city centre walk, designed to reveal the best of Coventry's historic buildings. There are also sections on the motor industry and the medieval history and details of the city's story from Roman times to the present day.
Peter Walters of Coventry and Warwickshire Promotions said:
"It's great to see it at last. Jarrold have been publishing these high quality guides for historic cities like York and Chester for many years, and now we have one for Coventry.

"I think it shows what wonderful heritage this city has and what a marvellous story we have to tell.

"Our Tourist Information Centre staff have been saying that this is what they need to fill a gap in promoting the city and now they have it."
Malcolm Crampton, sales and marketing manager for Jarrold Publishing, said:
"People have a particular image of Coventry, which is plainly a mistaken one in many ways.

"There is clearly a lot here to interest visitors and local residents alike and at Jarrold we've all found it quite an eye-opener to work on the guide."
The guide costs £2.50. More information on it from the Tourist Information Centre on 024 7683 1326.