[27 OCT 00] COVENTRY AND WARWICKSHIRE PROMOTIONS NEWS
Rosalind Completes The Line Up

Author and journalist Rosalind Miles will be returning to her old stamping ground when she joins the panel for the Writers at the Hall event in Coventry next month.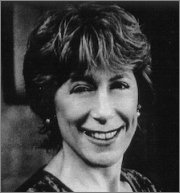 Now based in Kent, she taught at Coventry University before becoming a full-time writer, and lived at Corley in north Warwickshire for many years.
A former regular contributor to Cosmopolitan magazine and Any Questions radio panellist, she is the author of 17 books, including The Women's History of the World and I, Elizabeth.
Her latest novel, published this autumn, is the final part of a trilogy based on Camelot and the Lady Guenevere.
She joins pop producer Pete Waterman and Coventry-based thriller writer Georgie Hale on the panel for the event, which takes place at St Mary's Hall in the city centre on Wednesday 15 November at 7.30pm.
She said:
"I have very fond memories of St Mary's Hall and I'm very much looking forward to talking about my work to a Coventry audience. It will be like old times".
The evening includes a three-course dinner and free wine reception, as well as a book signing session. Tickets are £20 a head and are available from Coventry's Tourist Information Centre in Bayley Lane on 024 7622 7264.
Organiser Peter Walters said:
"Our last Writers at the Hall evening was a sell-out and we're expecting another fascinating evening. I'd urge people to book now."