[16 NOV 00] COVENTRY AND WARWICKSHIRE PROMOTIONS REVIEW: WRITERS AT THE HALL
Misty-eyed Memories Of Coventry
BY ANTONY HOPKER

Oohs and aahs filled the air as three very different authors shared memories of Coventry they all know and love last night.

There was a bond between Pete Waterman, Georgie Hale and Rosalind Miles that hasn't always been shared at the Writers At The Hall event.

Although they are all from different background, and have lived very different lives they all were proud of their association with the city.

And you could tell that they were all thrilled to be taking the top table in St Mary's Guildhall.

It felt like you could be watching a school reunion – and the stodgy jam roly-poly served as dessert helped reinforce that impression.

They all spoke of their books - confident, dynamic Waterman first, who delighted people with his memories of the city and slipped in a few decent stories about his life at the centre of all things poptastic.
Then a more nervous Georige Hale (below right). Making her first appearance at an event like this, the Styvechale writer is enjoying the unexpected flash of celebrity following the publication of her debut novel Without Trace.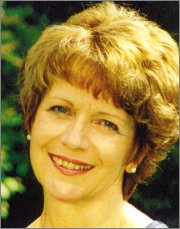 She spoke movingly about how her life in and out of different jobs before becoming a full-time carer for her mother led her into writing, and how she got her unexpected breakthrough last year.
And she offered advice for any would-be writer hoping to get a publishing deal:
"If you want it enough, stick with it. Be thick-skinned, but you don't have to be part of this perceived magic inner circle that most of us in the provinces think exists in London."
Rosalind Miles (right) is very enthusiastic about her latest subject – Lady Guenevere, and passed up on the opportunity to talk about her own career to talk about King Arthur's famous other half.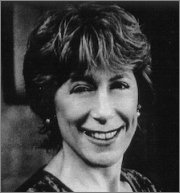 So enthusiastic was she that she actually leapt out or her set with excitement at being asked a question – I thought people only did that in novels.
She is obviously very keen on her work – so much so that her talk drifted somewhat beyond the allotted 15 minutes as she tried to condense a trilogy into a mini-lecture.
That's the difficulty and the pleasure of the format – the writers are all different and it would be unlikely that anyone in the audience would be interested in all three.
But the event shows that Coventry does have some kind of cultural life, even if two-thirds of the guests no longer live here, and as long as they don't run out of authors with links to the city, long may it continue.
SEE: [16 NOV 00] WATERMAN NOSTALGIC ABOUT COVENTRY THEATRE