[07 DEC 00] COVENTRY AND WARWICKSHIRE PROMOTIONS NEWS
Circus Phoenix To Stun The City
BY ANTONY HOPKER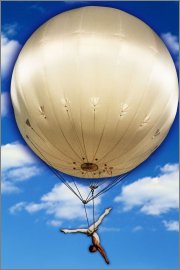 An acrobat strapped to a giant helium balloon will start a circus extravaganza as performers trip the light fantastic to usher in the New Year in Coventry.
Jugglers, acrobats and performance artistes will be amazing the crowds when they appear on the Priory Stage by Coventry Cathedral on 31 December from 5pm.
Circus Phoenix will be kicked off by the Heliosphere (right), an 18ft helium balloon, from which an acrobat is suspended.
It will open the show by making its way down Bayley Lane to the Priory Street stage.
Seen recently in the Millennium Dome and at the UEFA Cup Final, Rugby World Cup and George Harrison's birthday party, the Heliosphere will make a dramatic start to the contemporary circus show.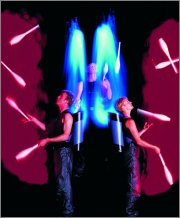 Accompanying the Heliosphere near the Cathedral steps will be the Spurting Man, a two man theatrical show where a statue-like performer and his hapless assistant spray water from their costumes into the crowd.
The on-stage entertainment starts at 6.30pm with jugglers Feeding the Fish (right), who create complex juggling patterns with lit clubs in partial light.
Acrobatic dancers Pyromania will then follow, showing of their own brand of theatrical dance bound by wires of light.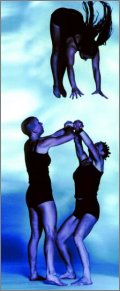 Female troupe Mimbre (left) will bring the show to a finale with an energetic acrobatic display.
Rae Hoole, Head of Events for organisers Coventry and Warwickshire Promotions said:
"We have pulled some of the country's top performers together for what will be a fantastic visual spectacle with a full-on sound track.

"Our New Year's Eve event will be as much about performance as it is about music."
Circus Phoenix is part of a 13-hour programme of free family entertainment in the city centre for New Years Eve 2000.
The show is followed on the same stage at 9pm by a set from the 2-Tone Collective, which includes original members from The Selecter, The Specials and The Beat.
SEE: [05 DEC 00] MILLENNIUM BEACON TO BE LIT IN COVENTRY