[12 DEC 00] COVENTRY AND WARWICKSHIRE PROMOTIONS NEWS
Clowns Come Out To Amuse In Coventry
BY ANTONY HOPKER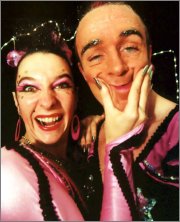 Clowns and magicians will be bringing a sparkle for the family on New Year's Eve in Coventry city centre.
From midday the free variety show will be entertaining people in Shelton Square and Broadgate.
There will be unicyclists, comic magicians, acrobats and clowns, jugglers and comic escapologists.
The two variety shows will be compered by comic acts The Splott Brothers in Broadgate and Stickleback Plasticus at Shelton Square. Both shows start at 12pm and end at 5pm.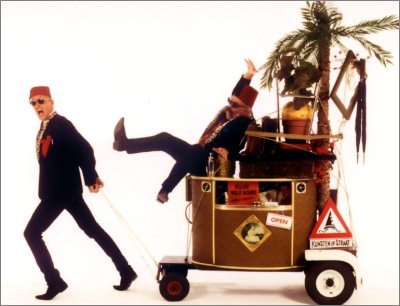 THE SPLOTT BROTHERS AND (TOP) STICKLEBACK PLASTICUS
Rae Hoole, Head of Events for event producers Coventry and Warwickshire Promotions, said:
"This is the best in classic street theatre. Come and have a laugh, bring the kids and stay as long as you want."
The family variety shows are part of the city centre entertainment planned for New Year's Eve. Later in the evening a human circus show and a variety of groups will be performing on stages around the city centre.
Free programmes are available from Coventry Tourist Information Centre, Bayley Lane, tel 024 7622 7264.
SEE: [07 DEC 00] CIRCUS PHOENIX TO STUN THE CITY