[16 JAN 01] COVENTRY AND WARWICKSHIRE PROMOTIONS NEWS
Take Part In This Year's Godiva Procession

Groups in Coventry are being invited to follow Lady Godiva through the streets of Coventry as part of a colourful tradition dating back more than 300 years.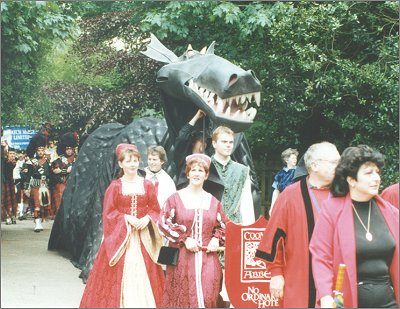 BAGPIPERS, A DRAGON AND THE SINGERS FROM COOMBE ABBEY IN LAST YEAR'S PROCESSION
More than 800 people took part in last year's Godiva Procession and organisers are hoping to top that figure in this year's parade on 9 June.
The procession is been a long-standing Coventry tradition, which started in 1678 and was revived in its traditional foot procession form by Coventry and Warwickshire Promotions in 1997.
Starting from the Cathedral ruins at 11am, the Procession will wend its way around the city before ending in the Memorial Park.
Its arrival at the park will signal the beginning of the fourth Godiva Festival.
Civic and community groups and charities take part in the procession, which is fronted by representatives from Coventry Cathedral and features Pru Porretta, dressed as Lady Godiva, riding on horseback.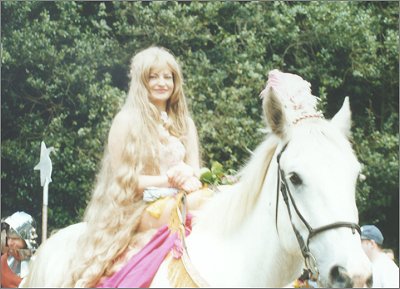 PRU PORRETTA ON HORSEBACK AS LADY GODIVA
Bolstered by musicians, costumed characters, clubs and societies, it's hoped that more people than ever will join up to make this year's procession the biggest and best yet.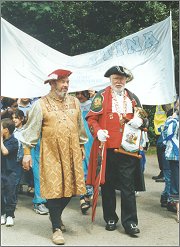 Organisers are particularly keen to hear from the various historical, ethnic, community and school groups that represent the diversity of Coventry's society today.
Festival Manager, Jane Wynn said:
"We want to make the procession a reflection of Coventry's past and present. If you belong in the city then you belong in it!"
The festival will include a motorcade, greenspace, healing tent, Lives and Times history fair, rhythm tent, band tent, cabaret tent, kids space, the fire brigade, fairground and for the first time an arena with a programme of events.
Anyone wishing to join the procession or find out more details should contact Jane Wynn, Festival Manager on 024 7660 7019, e-mail j.wynn@coventry.org or write to Coventry and Warwickshire Promotions, 1 Castle Yard, off Hay Lane, Coventry, CV1 5RF.