[09 MAR 01] COVENTRY AND WARWICKSHIRE PROMOTIONS NEWS
Radio Meeting Entices Coe To Coventry

An author who brought the streets of Coventry to life in a novel will be returning to the city later this month to give an insight into his writing career.

It was a chance meeting on national radio has produced a second panellist for the Writers at the Hall event at St Mary's Hall on 28 March.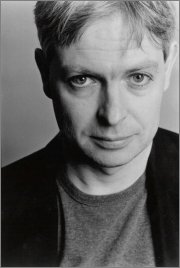 Novelist Jonathan Coe has agreed to talk about his work at the event after meeting up with friend and fellow panellist David Lodge on BBC Radio Four's Start The Week programme this week.
Afterwards the two men discussed the event and Coe asked his publishers, Penguin Books, to put his name forward.
Organisers Coventry and Warwickshire Promotions had asked Coe to join the panel some months ago, but for family reasons he was forced to decline. Now his personal circumstances have changed and he's keen to take part.
Peter Walters, from Coventry and Warwickshire Promotions, said:
"We're delighted to be able to welcome both David Lodge [left] and Jonathan Coe to Writers at the Hall.

"Together, they are perhaps the most high profile British novelists at the moment, with highly acclaimed new novels just out and lots of attention from the media. "
Jonathan Coe is the author of five previous novels, including What A Carve-Up! And The House Of Sleep, which won the Writers' Guild Best Fiction Award in 1997.
A graduate of Warwick University who once lived in Coventry, one of his early books, was set around the streets of Earlsdon.
He has set his sharply satirical new novel The Rotters Club in 1970s Birmingham, drawing on themes from his own childhood in that city.
The March 28 event is being organised in partnership with Waterstone's bookstores and the city council's Library Service.
For the first time, a local company, Harry Shaw Business Computers, has agreed to help sponsor the cost.
The evening includes a three-course dinner and free wine reception, as well as a book-signing session.
Tickets are £20 a head and are available from Coventry's Tourist Information Centre in Bayley Lane on 024 7622 7264 or email
tic@coventry.org