[22 MAR 01] COVENTRY AND WARWICKSHIRE PROMOTIONS NEWS
Roll Up For Tour Of Cathedral Quarter

Kings and queens, writers and rebels, a hanged murderess and a real-life gladiator are all featured in a new walking tour of Coventry's historic Cathedral Quarter.

Devised by the city's tourism company, Coventry and Warwickshire Promotions, the tour tells the story of a thousand years, taking in more than a dozen historic sites.

It also includes Coventry's modern cathedral, voted Britain's most popular 20th century building in a recent national poll.

The tour has been unveiled at CWP's stand at the British Travel Trade Fair at the National Exhibition Centre to try and encourage firms to recommend the city as a tourist destination. It will be available to the public from the Tourist Information Centre at Easter.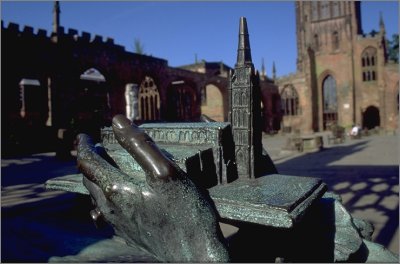 THE CATHEDRAL RUINS FEATURE ON THE TOUR
The hour-long circular tour, which begins at the city's Tourist Information Centre, highlights many elements of Coventry's rich history, from Lady Godiva to the wartime destruction of its 14th century cathedral.
It takes in the archaeological dig that has just brought to light an even earlier cathedral church, destroyed on the orders of Henry VIII, and many f the characters prominent in the city's history.
The tour is available in brochure, guided and audio form, using the latest hand-held technology, and is offered in French and German translations.
The Cathedral Quarter tour is part of a major tourism campaign being launched this spring by Coventry and Warwickshire Promotions to put the city's heritage on the map.
A second element, in association with the city's Museum of British Road Transport, draws together the area's motoring and transport heritage, from museum collections to factory tours.
The new brochure highlights the vehicle collections the Museum of British Road Transport and at the Heritage Motor Museum in south Warwickshire - both world-rated collections, and tells the story of Coventry's role as the birthplace and centre of both the cycle and motor industries in Britain.
It also sets out the innovative programme of factory tours now run by companies like Jaguar and Peugeot.
Nicola Leake, Head of Sales for Coventry and Warwickshire Promotions, said:
"Coventry has a great story to tell and the campaign is designed to show off the city's wonderful heritage in an appealing way.

"We hope visitors from near and far will get a much better idea of what it has to offer."
The new campaign is being supported by a £150,000 grant from the European Regional Development Fund, plus a contribution of £10,000 from the Museum of British Road Transport.