Coventry is going to be sold to the Dutch.
A team from the city's tourism promotion company, Coventry and Warwickshire Promotions, are going to be exhibiting at a Dutch tourism trade fair later this month. They will be displaying the city's wares at the 'Vakantiebeurs' travel show in Utrecht in the Netherlands.
Vakantiebeurs is an international show, which runs 8-13 January, for the Dutch public looking for a place to holiday in 2002. Coventry and Warwickshire Promotions are going as part of the British Tourist Authority stand and hope to attract visitors to the area.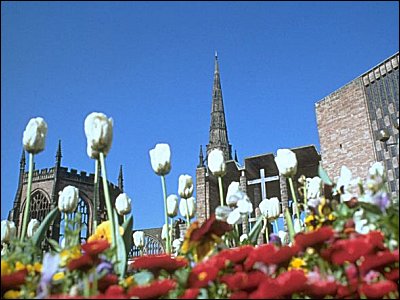 COVENTRY CATHEDRAL
[photo supplied by Coventry and Warwickshire Promotions]
Coventry Cathedral, the new Priory Gardens Visitor Centre and the Museum of British Road Transport are the main attractions Coventry and Warwickshire Promotions will be promoting at the fair as well as a range of city events planned throughout the year from St George's Day to New Years Eve.
The company will also be promoting two new tours it has created, the 'Walk of a Thousand Years', which is a tour of the city's historic Cathedral Quarter, and 'Wheely Good Tours', tours of the region's motoring heritage.
Sue Jones, Tourist Information Centre Assistant who will be attending the show, said:
"People come to Coventry from all over the world because it is such an interesting place, with a thousand year old story to tell. Vakantiebeurs is a great opportunity to sell Coventry alongside the rest of the world and since interest in Britain is traditionally high at this show we hope to do well."
It is the first time that Coventry and Warwickshire Promotions have exhibited at the show and their attendance has been paid for with Foot and Mouth recovery money received by the Heart of England Tourist Board from Advantage West Midlands.
Vakantiebeurs is an annual show and last year attracted 17,000 visitors.